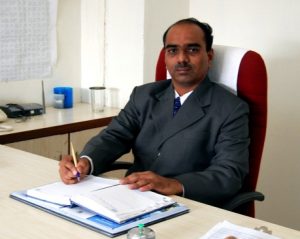 -Principal
Dr. Prashant J. Patil
P.h.D ( Mechanical – Heat Power ),ME(Mech)
I am indeed very happy to note your interest of joining our College Of Engineering and Technology(Degree). As Principal, I offer you a very cordial welcome. Educational institute is a place not only to learn but also to build character and all round development of students.
The main aim of the students seeking admission is to get good percentage and to be well placed in multinational organizations. Along with high quality engineering education, the college has initiated activities to meet the expectations of each student by way of enabling them to improve their communication skills using the communication laboratory and to participate in the seminars, workshops organized in and out of the institute.
Along with best academic facilities,efforts are made to enhance skills of students by running various extracurricular activities. The institute is providing round the clock high speed internet to enable the students to keep abreast of technological development. The institute has well equipped laboratories and library.
There is a dedicated team of faculty with distinguished academic record, industrial and teaching experience in all branches to provide quality education and training in engineering and technology. They work with enthusiasm, brimming with new and creative ideas. In addition to expert coaching by faculty members, students also have the advantage of learning from eminent professors, scientists and experts from other reputed institutions and industries who are invited to give guest lectures.
Training and placement department is created to groom students to enhance the verbal and written communication skills and prepare the students to face the interview during the campus placements. Let us assure you that we help you to realize your dreams which you are cherishing in your minds. So let us work together and make an endeavour to build a fine career for you. I wish you a very Promising and Fruitful career as a student of this institute.